Yesterday, Chris Erdmann (Head Librarian at the Harvard-Smithsonian Center for Astrophysics) and I presented a poster on the Unified Astronomy Thesaurus at the 2014 E-Sciences Symposium, held by the University of Massachusetts Medical School.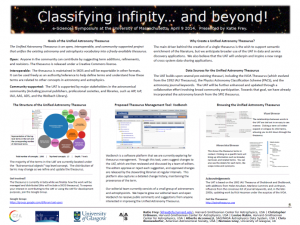 We used this poster as an opportunity to introduce VocBench, the thesaurus management tool we have been exploring and testing.
As I mentioned in my previous post, VocBench is a tool that will allow us to receive and manage user suggestions.  A team of editors will review these suggestions and then approve or reject them.  On a regular schedule, the stewarding librarian will release these approved changes in batches, pushing the new content out so that users of the UAT can update their projects accordingly.
We are getting closer to soft launching VocBench so that our editors can test the platform and review the many comments and suggestions we have already received.  Once these comments have been reviewed and decided on, we plan to open VocBench up to receive community input and we will be releasing UAT v1.0.  Stay tuned…!